Eilbeck Cranes is leading the charge in Overhead Crane Manufacture, and we are proudly leading Australia as the largest, most innovative and capable crane manufacturer in the country. Proudly still a 100% family owned private company, with both the 3rd and 4th generation Eilbeck's working at the company striving to lead at the top.

Eilbeck's innovation in design, advancement in technology, and fluency in manufacturing processes is reflected time and time again in continuously being selected to be the core supplier for Australia's major infrastructure projects by leading contractor organisations.

In 1991 Eilbeck was chosen to build the first ever 500t capacity overhead travelling crane for the Hismelt Project in Kwinana WA to deliver a special crane to transport the furnace ladle with 4 synchronized 125t hoists.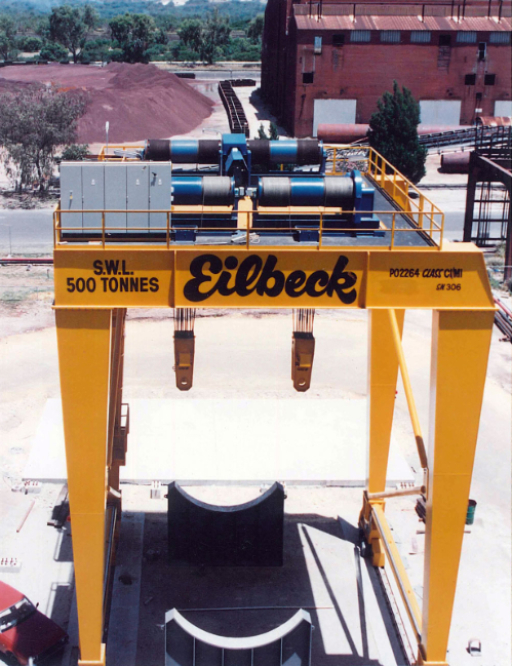 With no surprise Eilbeck have now been called again to the stage, beating determined competition across Asian and European multi-national organisations, to win the project to build Australia's second ever 500t crane.

This time round, the crane being substantially larger and much more versatile. This incredible piece of engineering infrastructure, standing a boasting 25m under the hook crane span of 25m between the legs and cantilevers of 6m with 40t capacity, with hoist having 46m HOL and hauling 500t at 1.7 m/min, in 3 different axis, with purpose of handling the special TBM 15.6m diameter the largest in the southern hemisphere, built for boring Victoria's West Gate Tunnel, a $ 6.7 billion Civil Engineering project in Victoria. Additionally this TBM crane, having the flexibility to delivering 40t of segment at 16 m/min for the duration of the project.

Eilbeck is also building another large crane for this project, a 250 (125+125)t x 25m and 7m cantilever full portal crane with 20m under the hook for TBM assembly and 40t segment high speed hoist to handle, plus 40t segment gantry storage crane.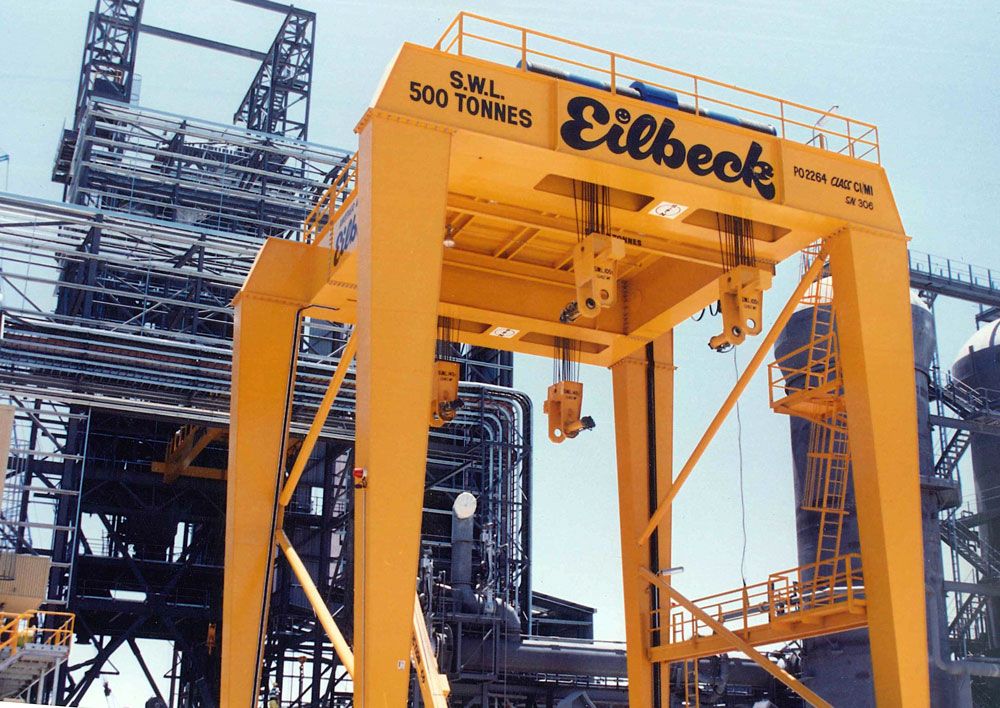 1991 Hismelt 500 tonnes
This 500t crane, plus the additional 250t TBM crane, and several pre-cast segment yard cranes in the project will be designed in Sydney, and manufactured across Eilbecks' four east coast fabrication facilities and machining / assembly facility including the new Melbourne facility online midyear and have all cranes built, installed and commissioned before the close of 2018.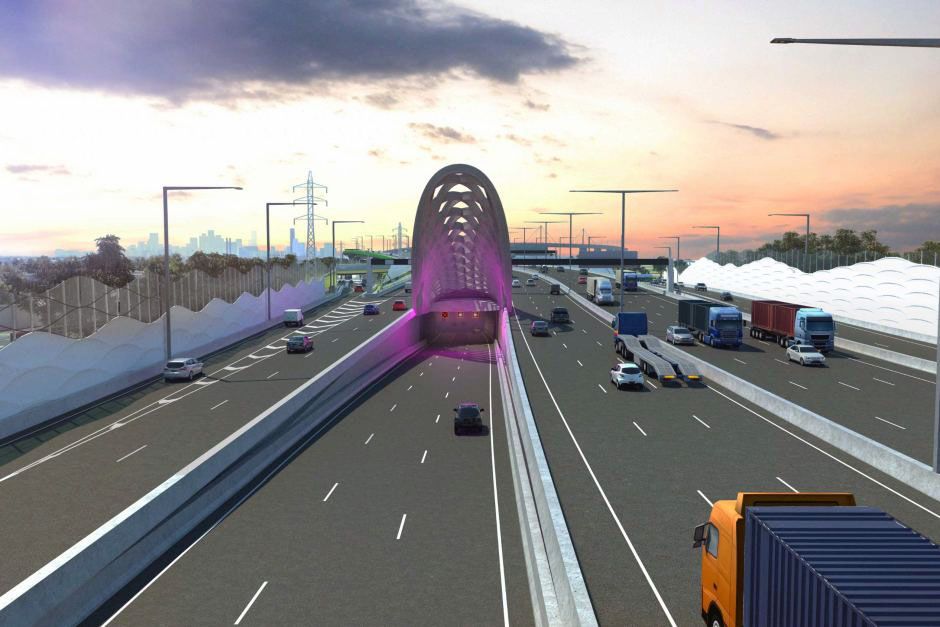 3D image of the entry to the $5.5 billion West Gate Tunnel project in Melbourne
Eilbeck, still 100% Australian owned, engineering, purchasing and manufacturing within Australia. The company bleeds Australian integrity, and we as a company still proudly buy Australian product where we can, building ALL cranes from Australian steel and employing Australian residents.